Latest News from Barrow Clark
Congratulations to our lovely customers Jenny Eveleigh and Chay Hughes

Golden Jubilee Grand Prize Winners - Luxury 2-Night Stay with a Sea View Room with Two Course Dinner at The Woolacombe Bay Hotel

Barrow Clark Furnishers have this past September celebrated our Golden Jubilee 50th Anniversary. Est. 1965. As part of these celebrations our existing loyal and also new customers were entered into a Prize Draw with amazing prizes.

Further Prize Draw winners to be announced soon - watch this space on our Facebook Page:

https://www.facebook.com/barrow.clark

Woolacombe Bay Hotel is a luxury four star hotel in one of the most enviable positions in England. Overlooking one of the finest beaches in Europe, they have 64 glorious bedrooms, six acres of landscaped grounds, and direct access to three miles of beautiful, golden sands.

Life here combines the timeless elegance of days gone by, with all of the special touches that you would expect from a luxury four star hotel. Woolacombe Bay hotel has it all…everything you could wish for from a luxury hotel in North Devon.

www.woolacombe-bay-hotel.co.uk
Barrow Clark Furnishers Golden Jubilee Anniversary.

Furnishing experts for 50 years. Est. 1965

North Devon Gazette, Wednesday, September 23, 201

Barrow Clark Furnishers have this past September celebrated our Golden Jubilee 50th Anniversary. Est. 1965.

As part of these celebrations we had a special week of unique promotions throughout the shoowroom for one week and our existing loyal and also new customers were entered into a Prize Draw with amazing local prizes to be won.

Read more by following this link to article by Tony Gussin: http://edition.pagesuite-professional.co.uk//launch.aspx?eid=10277893-0d4a-4833-8350-5fc90a8cd64b
Buckland Brewer Princess Cat-astrophe Avoided
A Cat has had a lucky escape thanks to the quick thinking and caring actions of a local delivery team.
Rich and Freddie Barrow of Barrow Clark Furnishers Barnstaple, were undertaking a furniture delivery in Buckland Brewer when unknown to them, 'Princess', a 5 year old tabby cat, was more than a little curious and ventured into the opened Barrow Clark delivery van. Rich and Freddie Barrow finished their delivery to Princess's neighbour in Buckland Brewer, locked up the van and drove nearly 5 miles to their next delivery in Torrington New Street.
Freddie Barrow had the shock of his life as he unlocked the van and unrolled the van shutter doors to see Princess leap out, run straight into Torrington New Street, darting everywhere as she did not know where she was. Cars in Torrington slowed down and after some commotion Rich Barrow then calmly coaxed Princess over to him and he managed to pick the cat up and put her in the front cab, safe from passing traffic. The Barrow Clark team noted Princess had a collar on and realised that their new van mascot was from the neighbour of their previous delivery back in Buckland Brewer!
After finishing their Torrington delivery, Rich and Freddie drove Princess back to Buckland Brewer; and after her 10mile round trip, Princess was back in her familiar surroundings!
Princesses owner Kat Harvey of Tuckers Park Buckland Brewer commented, "I was at work and suddenly saw all these missed calls on my phone and then a text message from the drivers telling me what had happened to Princess! I am so grateful that they returned her safely. It is nice to know that people do care for animals especially when so many go missing. I am very grateful to both Rich and Freddie".
Rich Barrow commented, "Most people have a dog in their car or van, but for that morning we had a cat!" Joking aside, we are just pleased that Princess is ok and home safe".
Barrow Clark feature in Luxurious coastal homes and country houses Exclusive Property supplement

North Devon Journal, Thursday, September 18, 2014

This week Barrow Clark featured in a Luxurious coastal homes and country houses feature in the new North Devon Journal Exclusive Property supplement.

In this article titled 'What to consider when furnishing your home', Rob Barrow discusses Top Tips to consider when furnishing a property. These include, How to browse and speak to a passionate sales team, planning ahead, being open minded, and to not be afraid to mix styles.

Read more by following this link: http://issuu.com/dawnborg/docs/exclusiveproperty
Barrow Clark Furnishers revive Braunton football sponsorship
North Devon Journal, October 17, 2013
Barrow Clark Furnishers have proudly sponsored Braunton Football Club by presenting the current men's first team with a brand new football kit, all thanks to the lasting friendship and history between the Barrow, Clark and Maynard families and their ties to the great Braunton Village.
Sparked from former Braunton Goalkeeper Chris Egner's facebook post of a youth team photograph some 21years ago which was sponsored by Barrow Clark Furnishers with current Director featured as a player. Mark Harris, Braunton FC First Team Manager, spoke with Rob Barrow and gave the opportunity for Barrow Clark to sponsor the club.
With Kevin Maynard's, Barrow Clark Furnishers Carpet and Flooring Manager, two nephews Scott and Ross Maynard playing in today's team who also featured in the original Barrow Clark sponsored team some 21years ago, coupled together with the even longer history in the 1950s with former Managing Director Ron Clark (Nobby Clark), it made perfect sense for the partnership to be reintroduced.
Rob Barrow of Barrow Clark Furnishers Commented; "Ron (Nobby) Clark and his son Garry Clark played football for Braunton FC, Kevin's brother Jeff Maynard also played for the team along with being instrumental in helping create Braunton's current facilities; my father Chris Barrow sponsored the club when based in Braunton, and I personally have played many seasons for the club. Braunton FC and the Village itself are close to our family and business over generations.
Barrow Clark Furnishers originated from Braunton and it just felt right giving something back to the club that does so much for so many families".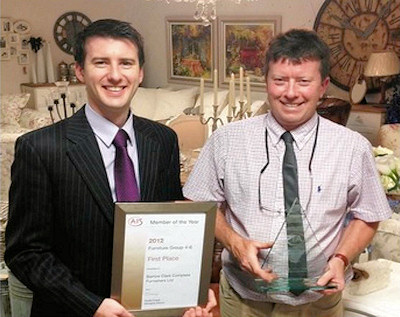 Family firm earns association accolade
North Devon Journal, Thursday, October 11, 2012
Barnstaple store Barrow Clark Furnishers, a third-generation family business based in Bear Street, has won first place in its category in the annual Association of Independent Stores (AIS) awards.
AIS is the largest non-food buying group I the UK and enables independent businesses to source products and services in the same way as multiple store groups.
Each year the AIS asks its 171 suppliers to the rate independent stores against strict criteria of business processes and standards. In 2010 Barrow Clark Furnishers was rated third in its category, but in 2012 was rated first.
"It was a pleasant surprise to come third place nationally two years ago, but to now be awarded first place is truly an honour" said director Rob Barrow. "On behalf of the family and the Barrow Clark team, I would like to thank all our customer and friends for their continued custom and support."



People in the photo: Kevin Maynard, Barrow Clark Carpet & Flooring Manager, Rob Barrow, the chair and Neal Lancaster, Caretaker from North Devon Hospice

An Early Christmas Present for North Devon Hospice

Barrow Clark Furnishers, in partnership with Joynson Holland Furniture, have brought some early Christmas cheer with the gift of a luxury rise and recline electric chair to North Devon Hospice.

The chair will be used in the Day Hospice lounge, to allow patients to relax in comfort and also get up with ease. Day Hospice nurse, Maggie Berry, said: "This is a really generous gift, and certainly adds to the comfortable atmosphere that we try to create at Day Hospice. Patients come and spend the day with us and they really enjoy the welcoming environment we provide. They go home at the end of the day often feeling a whole lot better than when they arrived. We are very grateful for this gift, and I know it will get a great deal of use."

Robert Barrow of Barrow Clark Complete Furnishers said: "We are delighted to be donating a chair to such a wonderful, caring and essential cause. North Devon Hospice is a fantastic charity which has blessed so many people. Lives have been touched because of the dedication, love and care of the hospice team and this is just a small contribution which we hope will help patients and their families".

The chair, produced by Joynson Holland, has been donated as part of a nationwide scheme, where 100 chairs will be distributed to charities across the country. It is of the highest quality to offer maximum benefit, as Managing Director of Joynson Holland, Mark Symes, explained. "Our products have been designed to bring maximum comfort and assistance at affordable prices, and are available from Barrow Clark Furnishers, who are a local and trusted retailer", he said.

Ali Hunt, North Devon Hospice's Head of Fundraising, said that gifts to the hospice come in all shapes and sizes, and are all very much appreciated. "We need the support of the community in many different ways in order to provide our essential services. Whether that is fundraising efforts, volunteering your time, or even providing generous gifts like this from Barrow Clark. The chair will be a fantastic addition to our Day Hospice lounge and will be used by patients every week."
Barrow Clark Furnishers Announce £1000 prize-winner!

Despite the economic times, Barrow Clark Furnishers have given away £1000 worth of free furniture after the stores recent and successful sale.

Mr & Mrs Davis from Barnstaple were picked at random from approximately a thousand entries of customers who made the effort to come to Barrow Clark's first two sale days.

Mr Davis commented, "I couldn't believe it when I had the call from Mr Barrow! We never seem to win draws, but here we're with £1000 worth of furniture!"

Barrow Clark Furnishers, a family owned and run store since the mid 1960's, held a furniture disposal sale to make way for new displays.

Robert Barrow, a Company Director, commented, "The £1000 shopping spree was a way of us thanking our customers for their loyalty and ongoing support. We were delighted with customer response to our event and thank all those who attended".
AIS Member of the Year

(third place)




Barrow Clark Furnishers, has fought off stiff competition to pick up third place in their furniture category in the Association of Independent Stores (AIS) Annual Member of the Year Award. Barrow Clark Furnishers were voted third place nationally by their suppliers who mark them on a number of strict criteria.

Barrow Clark Furnishers are a third generation family business based in Bear Street, Barnstaple. Originally based in Braunton during the Mid 1960's, Barrow Clark supplies middle, to top-end furniture including; beds, sofas, chairs, dining & bedroom furniture, carpets/flooring, curtains and much more.

Rob Barrow, a Director of Barrow Clark Furnishers commented; "To be awarded Third place Member of the Year 2010 in our furniture category is a fantastic achievement and we thank all our customers for their continued support and custom along with all our staff for their care and attention. To be honest, the Award came completely out of the blue! We were not trying to win an award which makes it even more special".

AIS is the largest non food buying group in the country and allows Independent businesses such as Barrow Clark, to source products and services on a scale as if they were a national multiple store. Rob Barrow explained; "AIS is fantastic for both the consumer and the retailer. Barrow Clark benefit from remaining a completely independent business, owned and run by our family, while at the same time being able to join with other businesses to negotiate with manufacturers and suppliers to create and supply the right products at the right price".

The AIS Award recognises the level and quality of service along with the professionalism delivered by members and Barrow Clark Furnishers were given the vote by the 150 strong supplier base. Euan Kelway-Bamber Merchandise Director at AIS presented the award and commented, "I am delighted to present this award to Barrow Clark Furnishers, as it reflects the very high esteem with which they are held by their suppliers and the importance Barrow Clark place on establishing strong, loyal and trusting relationships. By looking after their suppliers, they will surely look after Barrow Clark and enable them to meet the promises that they make to their customers. Our congratulations to the Barrow Clark team".

Rob Barrow added, "We are really touched to receive such an accolade. We are passionate about furniture and look to work with our suppliers to deliver customers the quality they expect and it is an honour to be recognised in doing this".

Euan Kelway-Bamber went on to add, "To achieve this award illustrates just how service orientated and professional Barrow Clark continues to be".
'Thank you, Chris, you've turned my life around'
North Devon Journal, Thursday, December 23, 2010
A Barnstaple man who was living rough during rough during some of the coldest weather for a generation has been saved by a kindly benefactor. Lee Stone, 20, said he slept for the two weeks in a freezing hut on the Tarka Trail between Barnstaple and Bickington with just a blanket for warmth. He was rescued by local man Chris Barrow, who gave Lee shelter, food – and hope.
"It was horrible. I found it very hard to sleep because I was shivering so much" Lee told the Journal. "I barely ate. I visited several cafes to ask for the occasional glass of water but they soon got annoyed with me and told me to get lost. After two weeks of living like this I was very weak and felt sick all the time."
One morning, Chris, the director of Barrow Clark furniture shop in Bear Street, walked by.
Lee said: "Chris lives in a house near the hut where I was sleeping and walks his dogs along the cycle path most morning. He took an interest in me and asked me how I'd got into this situation. He took me in for four days and gave me a bed and plenty of food. He was extremely kind to me."
Chris said: "Lee had clearly has a rough time and was in a very vulnerable state. As a Christian I believe you should help people in need. Living so near to the Tarka Trail I have come across quite a few homeless people seeking shelter there and have built up a list of contacts who offer assistance."
Chris helped Lee find temporary accommodation at the Freedom Centre in Barnstaple, a Christian social project. He also put Lee in touch with housing officers at North Devon Council, who secured him a room in a house share and found him a cleaning job at Chivenor.
Lee said: "I've gone from having nothing to having accommodation and a job in a matter of days. I never could have done this without the kind help of Chris and I want to say a massive thank you to him. He has turned my life around."
"I would also like to thank the staff at North Devon Council and Sodexo for their belief in me."
Chris added: "Lee is a thoroughly pleasant and genuine lad. It was a pleasure to offer him a helping hand. I'd like to think anyone would have done the same."